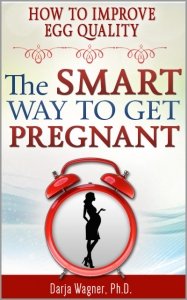 As I'm updating this post (June 2018), my book is still at the top of the category Sexual and Reproductive health on Amazon. Upon the release in late 2014, it reached the #1 position quite quickly and mostly remained there for the past three years. Thank you all for reading and supporting my work with your wonderful reviews!
Finally!
My new book baby is out. It's called: How to Improve Egg Quality: The Smart Way to Get Pregnant.
I still have to get used to the fact that I let it go out of my hands.
Over two years of writing, re-writing, data collecting,
pain, correspondence with researchers, with reviewers,
formatting, editing,
then some more writing,
(two new chapters after I announced to my family the book was finished).
About the book:
If you are over 30 OR undergoing fertility treatments, How to Improve Egg Quality: The Smart Way to Get Pregnant could seriously become the best investment you will ever make in your future family.
The book is packed with tons of cutting-edge research from recent years, but written in simple English and in an easy to read format. Following topics are covered:
How do you find out how many eggs you have left?
Which foods are scientifically proven to be the best for increasing fertility?
Did you know that the quality of a woman's eggs is the single largest factor contributing to delays in getting pregnant as women become older? Missing facts on how to slow down your biological clock and improve your chances to get pregnant can destroy your dreams.
How to deal with emotional and communication issues while you are waiting to get pregnant?
Which lifestyle interventions are most likely to improve your chances of conceiving?
What are the important things you MUST know about conception, implantation, and the aging of your ovaries?
What is it that women don't know and doctors don't tell?
I am sure that reading How to improve Egg Quality: The Smart Way to Get Pregnant is likely to save you a lot of time. There, I combine my personal experience with research from various scattered sources: scientific journals, the Internet, fertility forums and books, and give you the essence in a way which is easy to understand and to act upon.
This book is written for women who don't have much time to waste.
It gets straight to the point, putting scientific vocabulary in plain language. Even those who are familiar or dealing professionally with this topic (here is how to find me when you need my advice) are sure to learn new specific facts on how the reproductive potential of aging women can be developed to its full potential.
Instantly available to read on your Kindle or PC.
If you are over 35 and trying to get pregnant, you really can't afford to miss it.
P.S. Let me know if there is anything else you would like to know more about and I will cover it in the next book or address directly here on the blog.